Product and Service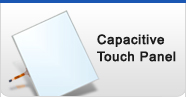 ---
Standard 5.8" ~24.6"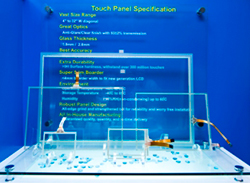 DanoTech premium surface capacitive touch panel (SCTP) offers outstanding accuracy, optics, and durability that exceeds current market standards.
The panel brings exciting touch experience to the users. With its patent pending layout designs, it performs extraordinary touch accuratcy on linearity. The super slim border design allows better integration for the new generation flat panel display assembly.
The panel is classified as the best optical quality in the industry. With unprecedented optical transmission, low reflection, and minimized color distortion, it sets a new standard and surprises the users with its optical proformance.
Our standard surface anti-glare coating treatment makes the panel suitable for the most outdoor and indoor applications. It is made of all the new materials and processes that gives it more durability and reliability. This feature provides extra resistance to extreme and hazardous environments.
---

Specifications are subjects to be changed without notice.
| | | |
| --- | --- | --- |
| | Size | 5.8"~24.6" Diagonal |
| | Input Method | Finger |
| | Thickness | 1.8 mm / 2.8 mm |
| | Tail | 105 mm (4") / 210 mm (8") |
| | Resolution | Max. to 2048 x 2048 |
| | Interface | USB and RS-232 |
| | Hardness | More than 9H per ASTM D3363 |
| | Linearity Accuracy | Max Error≦1.0 % base on the diagonal dimension of the screen |
| | Transmittance | Up to 92 ± 3 % high per ASTM D1003 |
| | Adhesion | Cross-cut tester without deteriorations per ASTM-D3359 |
| | Abrasion | Exceeds severe abrasion test per MIL-C-675C |
| | Surface Durability | Over 300 million touches without noticeable degradation |
| | Operating Temperature | -40°C to 85°C |
| | Storage Temperature | -40°C to 85°C |

4:3 Series
Wide Series
Size
PN
Dimension

(mm)

Tail Exit
Dwg.
7.3W
W1-07311APA-G0
VA:156.80 x 97.29
OA:169.80 x 108.69
03:00
10.3W
W1-10322APA-G0
VA:220.76 x 139.00
OA:232.11 x 149.20
10:00
12.4W
W1-12432APA-N0

VA:265.80 x 169.20




OA:278.80 x 180.60

08:00
15.7W
W1-15782APA-N0
VA:347.50 x 196.80
OA:358.90 x 209.80
11:00
17.1W
W1-17112APA-N0
VA:369.20 x 231.50
OA:382.20 x 246.80
06:00
19.0W
W1-19022APA-N0
VA:418.97 x 241.60
OA:430.37 x 254.60
01:00
19.2W
W1-19222APA-G0
VA:412.57 x 262.00
OA:423.97 x 275.00
12:00
19.4W
W1-19432APA-N0
VA:415.57 x 264.00
OA:426.97 x 277.00
12:00
20.3W
W1-20312APA-G0
VA:448.01 x 253.80
OA:461.72 x 265.99
09:00
22.0W
W1-22012APA-G0
VA:484.20 x 297.20
OA:495.60 x 292.20
11:00
22.4W
W1-22412APA-G0
VA:479.00 x 307.60
OA:492.00 x 319.00
02:00
24.2W
W1-24212APA-G0
VA:521.20 x 323.20
OA:539.00 x 341.00
11:00
24.6W
W1-24622APA-G0
VA:543.00 x 311.80
OA:556.00 x 323.20
09:00

top
特殊 Series
4:3 Series
Size
PN
Dimension

(mm)

Tail Exit
Dwg.
5.8
F1-05811APA-G0
VA:118.20 x 89.40
OA:129.60 x 102.40
06:00
6.8
F1-06811APA-G0
VA:138.00 x 104.10
OA:151.00 x 115.50
03:00
6.8
F1-06832APA-N0
VA:138.00 x 104.10
OA:151.00 x 115.50
03:00
8.5
F1-08511APA-G0
VA:173.00 x 130.60
OA:186.00 x 142.00
09:00
8.5
F1-08531APA-G0
VA:173.00 x 130.60
OA:184.40 x 143.60
11:00
8.5
F1-08542APA-N0
VA:173.00 x 130.60
OA:184.40 x 143.60
11:00
8.5
F1-08552APA-G0
VA:173.00 x 130.60
OA:186.00 x 142.00
09:00
10.6
F1-10632APA-G0
VA:214.20 x 163.90
OA:225.60 x 176.90
07:00
10.8
F1-10822APA-N0
VA:217.94 x 167.90
OA:230.94 x 179.30
09:00
10.8
F1-10841APA-G0
VA:217.94 x 167.90
OA:233.68 x 180.34
08:00
12.4
F1-12422APA-N0
VA:250.01 x 191.01


OA:265.50 x 203.20

08:00
15.4
F1-15412APA-N0

VA:312.60 x 235.00




OA:324.00 x 248.00

07:00
15.7
F1-15722APA-N0
VA:316.48 x 241.81
OA:330.20 x 254.00
07:00
16.4
F1-16422APA-N0

VA:332.29 x 251.11




OA:343.69 x 264.11

01:00
17.5
F1-17522APA-N0
VA:345.31 x 281.48
OA:357.51 x 295.20
11:00
18.4
F1-18422APA-N0
VA:370.41 x 286.54
OA:383.41 x 297.94
10:00
19.4
F1-19412APA-N0

VA:383.31 x 308.13




OA:396.01 x 324.00

11:00
19.8
F1-19812APA-G0

VA:389.59 x 316.26




OA:402.59 x 327.66

08:00

top